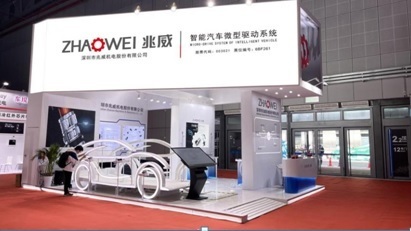 ZHAOWEI Goes on the Stage of Auto Shanghai 2021
ZHAOWEI goes on the stage of Auto Shanghai 2021
The 19th Shanghai International Automobile Industry Exhibition kicked off on April 21 at National Exhibition and Convention Center (Shanghai). On the first day, ZHAOWEI (Booth: 6BF261) has won praises from a lot of visitors.
ZHAOWEI booth is mainly divided into VR Interaction Area, Standard & Customized Products Area, and Business Negotiation Area. Among them, the VR Interaction Area has gained great popularity. The car model allows the visitors to intuitively and transparently feel how the gearbox and module apply. They can select the specific parts to be displayed through the touch screen on the front of the car model, such as "Adaptive Front-lighting System(AFS) ", "Concealed Door Handle Module" etc. With the professional and technical interpretation by engineers, audiences are able to understand products' applications in detail.
In addition, the Standard & Customized Products Area was not far behind in popularity. This area showcased ZHAOWEI's proud standard planetary gearboxes including metal gearboxes and plastic gearboxes from 3.4mm to 38mm in diameter. Furthermore, this area also exhibited high-quality customized products, such as "Filter Screen", made of nylon 66 (PA66), processed by phenolic resin and made into a folding cartridge, which has the advantages of good passing performance, high filtration efficiency, simple structure, low cost, and easy maintenance. For more information, please visit the official homepage of ZHAOWEI (https://www.zwgearbox.com/).
Moreover, the Business Negotiation Area provides on-site ordering and spot purchasing. At the day, except for our old partners, there are also many enterprises having a strong interest in ZHAOWEI. Visitors can put forward customization requirements and get the answer after the professional evaluation.
This is only part of Auto Shanghai 2021. Welcome to our booth (Booth: 6BF261) and come to browse our drive systems and chat with our technical engineers!
Media Contact
Company Name: Shenzhen Zhaowei Machinery & Electronics Co. Ltd.
Contact Person: Zhaowei
Email: sales@zwgearbox.com
City: Shenzhen
Country: China
Website: https://www.zwgearbox.com/
There is no offer to sell, no solicitation of an offer to buy, and no recommendation of any security or any other product or service in this article. Moreover, nothing contained in this PR should be construed as a recommendation to buy, sell, or hold any investment or security, or to engage in any investment strategy or transaction. It is your responsibility to determine whether any investment, investment strategy, security, or related transaction is appropriate for you based on your investment objectives, financial circumstances, and risk tolerance. Consult your business advisor, attorney, or tax advisor regarding your specific business, legal, or tax situation.