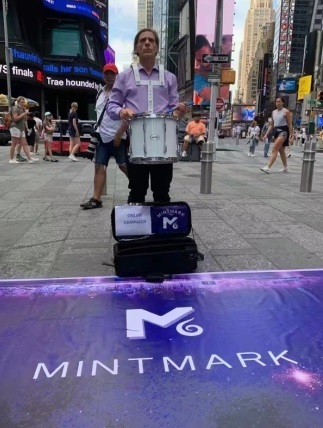 The First Stop of the MINTMARK Online Campaign Global Event Launched
The First Stop of the MINTMARK Online Campaign Global Event Launched
On June 26, New York Times Square, the first stop of the MINTMARK Online Campaign global event was launched.
The event was launched in the form of flash, which was composed of retired musicians, including artists and conductors of the American Philharmonic Orchestra. Through such an event, they hope to arouse the attention of society to the elderly. The elderly need not only material but also spiritual recognition. The elderly can still play the flash played by young people on the street, and they can also win applause from passers-by, which can also attract spontaneous participation of passers-by.
As a large group, the elderly are often only listed as needing care, but through this activity, people can see that what young people can do, the elderly can also play better.
MINTMARK hopes that this concept can be passed on through such charity activities. All donations will be used to provide a stage for the elderly, a stage to show them, and change people's misunderstanding of the elderly. MINTMARK believes that the elderly also need a stage, a stage that can show their talents.
Therefore, this is only the first stop of MINTMARK Online Campaign. Next, they will go to more cities and countries to show the stage to more elderly people. MINTMARK hopes that more people can build such a stage for the elderly.
Everyone can join a public welfare activity like MINTMARK Online Campaign.
Media Contact:
Contact Person: Charlie
Email: mintmarkcapitalllc@gmail.com
Company: MINTMARK
Website: www.mintmarkllc.com
Location: Sarasota, Florida
There is no offer to sell, no solicitation of an offer to buy, and no recommendation of any security or any other product or service in this article. Moreover, nothing contained in this PR should be construed as a recommendation to buy, sell, or hold any investment or security, or to engage in any investment strategy or transaction. It is your responsibility to determine whether any investment, investment strategy, security, or related transaction is appropriate for you based on your investment objectives, financial circumstances, and risk tolerance. Consult your business advisor, attorney, or tax advisor regarding your specific business, legal, or tax situation.