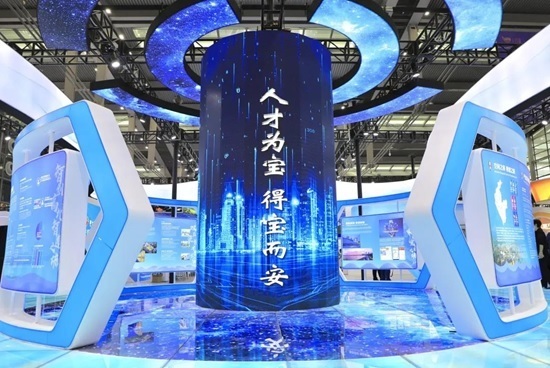 The 19th China International Exchange Conference and Bao'an concluded successfully
The 19th China International Exchange Conference and Bao'an concluded successfully
On the morning of April 24, the 19th Conference on International Exchange of Professionals hosted by the Ministry of Science and Technology (State Administration of Foreign Experts Affairs) and the Shenzhen Municipal People's Government was inaugurated at the Shenzhen Convention and Exhibition Center.
Started in 2001, the Conference on International Exchange of Professionals has been held for 18 consecutive sessions. It is China's national, international comprehensive exhibition and communication event for international scientific and technological innovation and international talent exchange resources with the theme of "innovation, development, cooperation, and win-win".
This two-day conference adopted the new "dual-engine" convention and exhibition model with equal emphasis on offline and online and had nearly a hundred forums and activities. More than 1,200 professional institutions and organizations from more than 30 countries and regions, and more than 10,000 domestic medical and surgical enterprise representatives, government representatives, experts and scholars, and international talents attended the meeting.
During the conference, Bao'an District exhibition activities of the Conference on International Exchange of Professionals were also held as scheduled. The Bao'an event was sponsored by the Bao'an District People's Government, undertaken by the Bao'an District Science and Technology Innovation Bureau, and co-organized by iMakerbase, the international hardware accelerator. The content of the event includes exhibitions in the main exhibition hall, Bao'an science knowledge popularization exhibition, and featured communication and exchange activities.
Bao'an Main Exhibition Hall
The Bao'an Main Exhibition Hall is located in Hall 1 of Shenzhen Convention and Exhibition Center. With "Empowering the Bay Area" as the design idea, it highlights Bao'an District's exhibition theme of "Core of Bay Area, Intelligent Creation Highland, Shared Homeland". At the conference, a number of key representative science and technology enterprise projects were amazingly unveiled, involving smart manufacturing, drones, biomedicine, new energy, and other areas, presenting the "Bao'an Smart Manufacturing" dynamic to the world.
The featured communication and exchange event was held in Bao'an Main Exhibition Hall. This event is based on the theme of "International Innovation and Cooperation" and "International Talent Exchange and Cooperation". Representatives of 12 outstanding technology companies, innovation carriers, and venture capital institutions from Bao'an District shared their experiences in innovation, entrepreneurship, and life in Bao'an at the forum. For the immediate pain points of enterprises, international resource project communication activities were also carried out at the event site.
iMakerbase is a maker's intention realization base that is open-minded and eager to share and communicate. It is the world's leading hard technology supply chain sharing platform and an advocate of the international maker supply chain incubation model. iMakerbase has a very extensive international influence. The international collaborative incubation advocated by iMakerbase helps makers worldwide quickly and efficiently implement their ideas and fulfill their entrepreneurial dreams.
On the morning of the 24th, the first event in Bao'an District was launched with the theme of Bao'an International Talent Innovation and Exchange. Giovanni, CEO of Italy-China Innovation and Creativity Center, Masawa Takasu, a well-known Japanese innovation expert, and Rao Jinxing, Dean of Shenzhen Institute of Social Organizations attended the event. Outstanding innovative talents from all over the world gathered here to share experiences, promote projects and build friendships.
Shenzhen Anke is a professional R&D and manufacturer of medical imaging equipment. During the epidemic. Its on-board CT, shelter CT, shelter DR and other products have provided efficient emergency solutions for epidemic prevention and control, and have been recognized by the National Health Commission. At the event, Vice President Wu Xiaoye shared the company's story of innovation and entrepreneurship development in Bao'an.
The booth of CANSINGA displayed the company's latest generation of buffer and isolation transportation facilities. General Manager Luo Changjie also shared the company's innovative story in Bao'an.
With the development of new technologies such as artificial intelligence, IoT, 5G, and blockchain, mankind has entered the era of the fourth industrial revolution. Wang Zhengnan, general manager of 3D scanning company KIRI Innovation from Canada, Dr. Gong Zhenghua, CEO of Yanyuan Bio released their latest scientific and technological innovation projects. To specifically solve the problems related to the insufficiency of funds, marketing, and supply chains in the development of scientific and technological innovation enterprises, the event had the enterprise supply and demand-supply chain communication and exchange part, inviting domestic and foreign experts to conduct in-depth sharing with the enterprises, and matching the rich and high-quality resources offered by the experts with the needs of the enterprise, to alleviate the issues in supply and demand for enterprises.
On the afternoon of the 24th, the event was launched with the theme of Bao'an International Talent Innovation and Entrepreneurship. Mark, brand design expert, Huang Yunsen, Honorary President of Shenzhen Association of Engineers, Chuang Yang Zhen, an expert in new achievements transformation, Jenxi, CEO of Cheese Valley attended the event. Bao'an's pleasant living environment, ideal talent policy and complete industrial supply chain resources have attracted a large number of domestic and foreign talents to come here to achieve their dreams and start their careers.
As new production factors, knowledge, information, and data have bred a group of subversive new industries and new business models, such as 5G, artificial intelligence, and autonomous driving, and have given birth to a group of outstanding innovative enterprises in various fields. The geek sports company SkyCloud and the characteristic education company BrainGetup released their latest technological innovation projects.
On the morning of the 25th, the third communication and exchange event was held with the theme of Bao'an high-level talents. The event brought together Bao'an high-level talents to share their entrepreneurial experience in Bao'an. Miss. Peng Lisi, the Shenzhen representative of ROUSE, a world-renowned intellectual property brand from the United Kingdom, shared a speech with the topic "The Road of Overseas Talents Returning to China for Innovation and Entrepreneurship". The general manager of Makimoto Design, Zhong Yan, high-level talent in Shenzhen and a new force in innovative design, shared a speech with the topic "Shenzhen Design and the Coordinated Development of the Guangdong-Hong Kong-Macao Greater Bay Area".
Shenzhen is an international and innovative city full of charm, vitality, and innovation. It respects talents, cherishes talents, and gives full play to the role of talents. It is a city that embraces people's dreams. Chen Zhijun, CEO of Xunhui Technology, shared their technology and agriculture projects. Dr. Jing Ding, who graduated from the Chinese University of Hong Kong, shared and released the "Eye of Intelligent Manufacturing: High-speed HD 3D Machine Vision System".
This featured communication and exchange event of Bao'an District lasted for 2 days. The 3 theme events built an exchange and cooperation platform for international innovative and entrepreneurial talents. Bao'an will create a better environment and promote the development of high-end talents and high-quality projects at home and abroad. This international talent exchange event has a free form, fosters in-depth communication, offers a lively atmosphere, and has significant effects. Bao'an District has become the most-watched venue. Until the end of the event, there were still interested visitors who were asking if there would be another event.
Let's look forward to 2022 and see you next year!
Media Contact:
Company:Shenzhen Daidea Innovation supply chain Co.,Ltd
Contact Person:zhou xiaoli
Email:daidea@163.com
Website:www.daidea.com.cn
Telephone:86-755-86112719