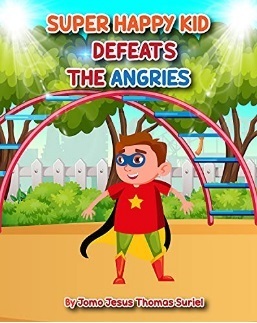 Super Happy Kid Defeats the Angries, Book Launched by 4-Year-Old Jomo Jesus
4-Year-Old kid Jomo Jesus has launched a book titled "Super Happy Kid Defeats the Angries"
A 4-year-old, bilingual (Spanish and English) author, Jomo Jesús Thomas Suriel, has written his first children's book during the COVID pandemic dealing with anger and controlling emotions. Titled Super Happy Kid Defeats the Angries, the book is based on a fictional heroic character, Super Happy Kid that uses his mind to make better decisions to overcome anger and his enemies, the "Angries".
Stuck inside the house, the 4-year-old developed his ideas to inspire other children that are dealing mentally and emotionally with anger during the pandemic.
"Kids need to have inspiring stories," 4-year-old Jomo Jesús said. "It is easy to get mad when you can't play with friends or go to regular school. Most kids stay inside and do not go to the park because of the COVID-19 virus. Kids get mad a lot, so I used my imagination to make a book about being angry, misbehaving and good behavior." "When kids behave, they can feel better."
The young author has a series of books on the Super Happy Kid that he is developing.
"Super Happy Kid is smart and strong. He saves the day when he learns to not get angry," Jomo Jesús said.
"I want kids to behave and not let anger win, save the day like Super Happy Kid," Jomo Jesús said.
Super Happy Kid Defeats the Angries is book 1 of a 3 part series by the 4-year-old author, who is a dual citizen of the United States and the Dominican Republic.
The fictional story about making better decisions can be used as an early reader book by children, parents, and educators.
The book is available at Amazon in June of 2021. The book was illustrated by Jomo Gamal Thomas.
To learn more about the author visit https://www.superhappykid.com
The book is available on Amazon at https://www.amazon.com/dp/B096YQ8V5W/ref=tsm_1_tp_tc
Media Contact:
Name: JG Thomas
Email: info@superhappykid.com
Organization: Super Happy Kid Publishing
Location: 628 Clinton Avenue, Uniondale, NY 11553
There is no offer to sell, no solicitation of an offer to buy, and no recommendation of any security or any other product or service in this article. Moreover, nothing contained in this PR should be construed as a recommendation to buy, sell, or hold any investment or security, or to engage in any investment strategy or transaction. It is your responsibility to determine whether any investment, investment strategy, security, or related transaction is appropriate for you based on your investment objectives, financial circumstances, and risk tolerance. Consult your business advisor, attorney, or tax advisor regarding your specific business, legal, or tax situation.