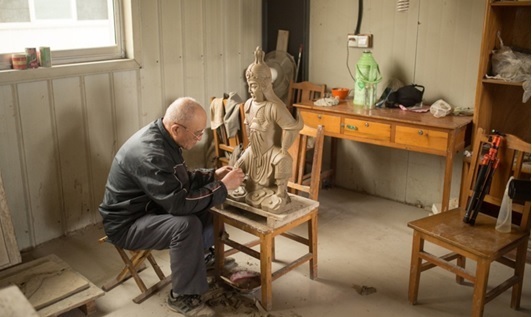 'Intangible cultural heritages are our genetic codes': Jining celebrates its resplendent art and craftsmanship
'Intangible cultural heritages are our genetic codes': Jining celebrates its resplendent art and craftsmanship
People in Jining, East China's Shandong Province believe their intangible cultural heritage is their genetic code.
The city in southwestern Shandong is rich in historic and cultural heritage – it is the hometown of Confucius, Mencius and other great ancient philosophers; it is also a major city by the Beijing-Hangzhou Grand Canal; in every dynasty, Jining has been mentioned in writing in various works of literature.
The intangible cultural heritage of Jining continues to be treasured and carefully preserved.
At present, there are at least 17 national-level intangible cultural heritage representatives and 11 national-level representative inheritors.
People in Jining believe that only by digging deeper and making good use of their intangible heritage might the cultural treasures left by their ancestors be remembered in the swift tide of the modern age, and allow the local culture to be more vibrant.
Confucius and foodie
Confucius once said, "With coarse rice to eat, with water to drink, and my bent arm for a pillow; I have still joy in the midst of these things." But cherishing simple and ordinary does not mean he was not picky about food – The Analects of Confucius showed that the famous ancient philosopher cared for sanitary and healthy food; he also paid attention to the art of food, saying that food should be delicate and nicely prepared; moreover, he believed in dining there should be etiquette.
Confucius' philosophy on food was inherited by his descendants. In history, when receiving emperors, senior officials and other noble guests, or hosting family feasts, the Duke of Yansheng, a marquis title given to the direct descendant of Confucius, would prepare exquisite and tasty food.
The food gradually formed the unique Confucius Cuisine with deep cultural essence therein. In 2011, the skill to cook Confucius Cuisine was included in the list of China's national-level intangible cultural heritages.
The history of Confucius Cuisine could be dated to 272 BC and was inherited with innovations.
It has several features, covering its ingredients, skills, outlooks, names, and even the containers, Kong Fanyin, an inheritor of the Confucius Cuisine, said.
The containers of Confucius Cuisine show its luxury. In the Confucius Museum in Qufu, a full set of Confucius Cuisine containers fill a huge exhibition room. The bowls, dishes and wares were made into different shapes, illustrating what's inside, such as duck and carp.
The highest level of Confucius Cuisine has 196 dishes, which were used to host emperors.
Nowadays, ordinary people in Qufu could also have the opportunity to experience a bit of it. Dishes such as smoked Tofu have become a daily staple for local residents to enjoy.
The art of fire and clay
In the ZooParc de Beauval of central France, giant pandas, Huan Huan and Yuan Zai are unsurprisingly the most popular stars. As visitors continue to enjoy the undeniable cuteness of the pair, they might also be blown away by the elegant Chinese-style building at the panda house, especially its shiny glazed tiles.
The colorful glazed tiles are produced by Qufu Glazed Tile Factory Co in Jining. For centuries, the factory has made tiles for the Temple of Confucius, the Mansion of the Kong family and the Forest of the Kong family.
Nowadays, the factory continues to make glazed tiles for the renovation of the three most significant buildings related to Confucius.
In 2014, the technique of Qufu's glazed tile making was included in China's representative List of the Intangible Cultural Heritage.
Wang Shubao, 58, chairman of the company, is the national-level inheritor of the skill. He has been working in the industry for 40 years.
In China, glazed tiles are the representatives of beauty. They are solid, colorful and bright. They are cherished in the building of ancient China, Wang introduced.

Wang hopes that more young people can join the team to inherit and promote the technique of making colorful glazed tiles. To fulfill this wish, he plans to build a museum for the tiles and invite more students learning art to experience the ancient technique at the factory.
Sound of life
For people in northern China, the sound of suona surrounds every aspect of their lives – the suona band is indispensable, no matter the occasion, whether wedding or funeral. Suona is a typical Chinese wind instrument.
The suona performance style in Zoucheng county, Jining is called the Ping School. The suona used in Ping School performances has a unique bronze pipe. It has a brighter, crisper and penetrating sound. It can mimic many sounds, such as dogs, cats and ducks.
Sun Huayang, 52, is the inheritor of the Ping School suona performance. The skill has been passed on for six generations in Sun's family.
"I started to learn to play suona when I was very little. At around 7 or 8 years old, I followed my father to practice the instrument," Sun said. "In the past, we did not know music theory and did not have music score. My father would hum the melodies, and I'd remember them in my mind."
In the rural regions, having a decent suona band to perform for several days with good tracks is a great honor. At funerals, it is a sign of respect for the dearly departed.
"We would attend where there was a wedding or a funeral. Rain or shine, we were never late, no matter how heavily it rained," he said.
Nowadays, the need for suona bands in rural areas is not as much as before. But Sun still insists on preserving his heritage. He hopes the sound of suona will accompany the life of the local people for generations to come.
Media Contact:
Contact Person: Jessy
Email: haixun@haixunpr.org
Telephone: 15897399889
Website: https://haixunpr.com/
Company: Changzhou Haixun Press Culture Communication Co.,Ltd
Location: Jiangsu, China
There is no offer to sell, no solicitation of an offer to buy, and no recommendation of any security or any other product or service in this article. Moreover, nothing contained in this PR should be construed as a recommendation to buy, sell, or hold any investment or security, or to engage in any investment strategy or transaction. It is your responsibility to determine whether any investment, investment strategy, security, or related transaction is appropriate for you based on your investment objectives, financial circumstances, and risk tolerance. Consult your business advisor, attorney, or tax advisor regarding your specific business, legal, or tax situation.