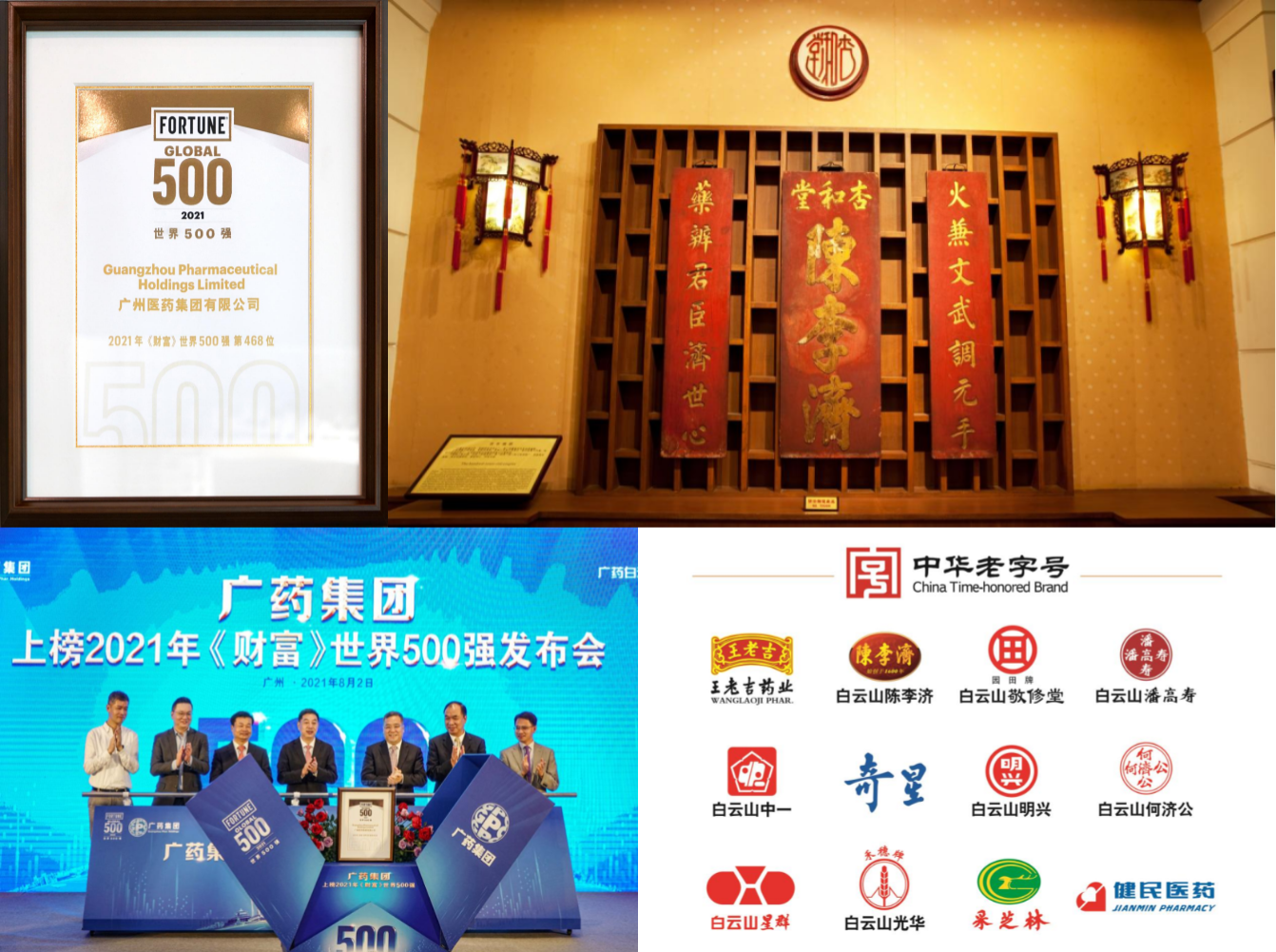 Guangzhou Pharmaceutical Holdings Limited Enters Fortune Global 500
Guangzhou Pharmaceutical Holdings Limited Enters Fortune Global 500
On August 2, the Fortune Global 500 2021 was released. Guangzhou Pharmaceutical Holdings Limited (hereinafter referred to as "GPHL" for short) made into the fortune global 500 list for the first time in 2021, ranking 468. It has become the first company to enter the Fortune global 500 with TCM as its main business. On the evening of the same day, GPHL held a press conference to celebrate entering Fortune Global 500. Gao Yuyue, Deputy Secretary-General of Guangzhou Municipal Government, Peng Haowen, Chairman of Fortune Media Group, Chen Haotian, Director of Guangzhou SASAC, Chen Xiaohua, Secretary of Guangzhou Liwan District Party Committee, Bi Ruiming, Mayor of Guangzhou Liwan District, and Qin Haining, Deputy Secretary of Guangzhou SASAC Party Committee and Deputy Director attended the event and extended congratulations.
The Guangdong Provincial Government, Guangzhou Municipal Government, Sun Yat-sen University and Maoming Municipal Government sent letters of congratulations to GPHL. As the provincial government said in the letter, "GPHL's ranking among the global top 500 is a significant achievement on the journey of Guangdong to becoming a strong TCM province, which is a significant demonstration for promoting the revitalization and development of the TCM industry in Guangdong in the new era!"
GPHL is the largest pharmaceutical company in China and the largest Chinese patent medicine production base in China. It owns the listed company "Baiyunshan" and over 30 other enterprises. Under GPHL, four business segments have formed, namely, Pan-Southern Medicine, Comprehensive Health, Extensive Commerce and Far-reaching Medical. Among them, TCM business is unique.
First time for a TCM company to join global leading companies
"The longest-lived pharmaceutical company in the world" accelerated its internationalization
GPHL's entry into Fortune Global 500 is a milestone in the development of the Chinese medicine industry, breaking the "zero" record and joining global top-tier companies as a TCM company.
At present, GPHL owns 6 national intangible cultural heritages, namely Xingqun Xiasangju, Wanglaoji herbal tea, Chenliji Traditional Chinese Medicine culture and Pangaoshou Traditional Chinese Medicine culture, etc.
In the view of GPHL, TCM needs to open up new development paths in order to revitalize. To this end, GPHL has put forward the development concept of Fashionable Chinese Medicine to promote the cross-border cooperation between Chinese medicine and other industries to make TCM popular.
With the concept of fashion and health, GPHL has also developed a series of Ciningji products using rosa roxburghii, a high-vitamin C fruit from Guizhou province, as raw material.
Adhering to scientific and technological innovation
Igniting the development engine of medical and health industry
The development of GPHL started from Traditional Chinese medicine, but it is not the only traditional Chinese medicine. Its chemical and biological drug businesses are leading in China. It has also been ranked first among the top 100 pharmaceutical industries in China for ten consecutive years. Under GPHL, Guangzhou Pharmaceutical Co., Ltd. is the largest commercial medical distributor in China.
As a pharmaceutical enterprise, GPHL understands the importance of scientific and technological innovation and strives to build a talent plateau. At present, GPHL has 3 Nobel Prize winners, 19 domestic academicians and masters of traditional Chinese medicine, 7 foreign expert consultants, nearly 100 doctors and post-docs, and has built 10 national research institutes.
Committed to building a world-class enterprise
Providing a broad medicine programme for world health
Under the situation of global economic integration, strengthening international cooperation is the only way for Chinese enterprises to develop. GPHL has further deepened its cooperation with the Fortune 500 companies through the Fortune Forum, Bo'ao Forum for Asia and other international conferences.
In order to accelerate the integration of domestic and international markets, GPHL has established its international headquarters in Macao, which is committed to promoting the pharmaceutical cooperation in the Guangdong-Hong Kong-Macao Greater Bay Area, facilitating the appropriately diversified development of Macao's economy.
According to the development plan, GPHL planned to become one of the Fortune Global 500 companies by 2020. Last year, under the influence of the outbreak of COVID-19, GPHL still achieved steady growth and achieved its target on schedule, becoming a milestone for TCM enterprises to enter the world's top enterprises.
Standing at the new starting point of Fortune Global 500, GPHL will be based on the new stage of development and actively playing a part in the national 14th Five-Year Plan. It will not only gather force to strengthen and optimize the original four business sectors, but will also actively grasp the pulse of the industry, developing TCM (traditional Chinese medicine+) fashion and healthcare e-commerce as its two business sectors for growth, and exploring animal healthcare and healthcare finance as its two business sectors for cultivation.

Media Contact

Person: liushengyu
Email: 648131829@qq.com
Telephone:17600659000
Website:http://www.gpc.com.cn/
Company: Guangzhou Pharmaceutical Holdings Limited
Location: Guangzhou


This content is published on behalf of the above source. Please contact them directly for any concern related to the above. 
This press release may contain forward-looking statements. Forward-looking statements describe future expectations, plans, results, or strategies (including product offerings, regulatory plans and business plans) and may change without notice. You are cautioned that such statements are subject to a multitude of risks and uncertainties that could cause future circumstances, events, or results to differ materially from those projected in the forward-looking statements, including the risks that actual results may differ materially from those projected in the forward-looking statements.