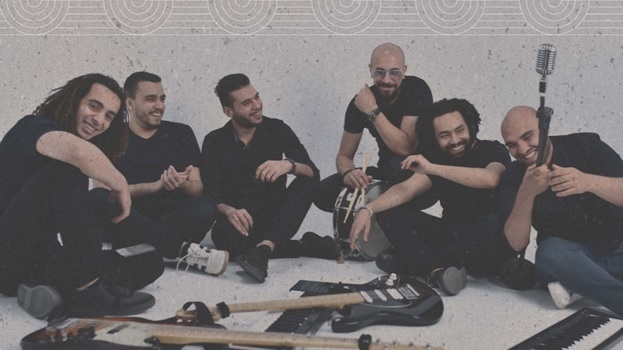 Egyptian Independent Gawy Band Contributes to Marvel Production
Egyptian Independent Gawy Band Contributes to Marvel Production
For the first time in Egypt's artistic history, an Egyptian band has contributed to a Marvel production. AtshanYaZeina (I'm Yearning Zeina), a song by Egyptian independent Gawy band, has been included in last month's release The Black Widow, starring Scarlett Johansson.
The song, part of which has been artistically used in a scene in the movie, tackles the story of a lover symbolically conversing with and blaming his beloved, intended to be his homeland.
The song was the result of a group of friends trying their hands at something new together. With lyrics in Upper Egyptian dialect based on a folk theme, AtshanYaZeina was written by Ahmed El-Gamal, who only recently won Abdel Rahman Al-Abnudi award in the Colloquial Poetry section (2021). It was composed by Mohamed Abd El-Latif (known as Tifa) with Mostafa Taxi, and performed by Tifa and Nehal Kamal together with John Khalil on guitar, Bebawy Rafaat on bass guitar and Kirollos Nageh Alfy on kawala, an Egyptian version of the ney. Arrangement, mixing and digital mastering was done by Mark Iskandar.
AtshanYaZeina was released on Sound Cloud in 2015. "We were surprised to find that the track was very well received by listeners," Tifa recalls. "Soon after, the Egyptian radio started broadcasting the song, shedding even more light on it. People began to ask about the band, when in fact we were not even a band yet. This unexpected positive feedback encouraged us to form Gawy, a formation that would be more than just a band."
"Cooperating with Marvel was a really enriching experience that any artist would dream of. It is an important step in our pursuit that enables us to be recognized by international audiences," said the band's co-founder and lead singer Mohamed Abdel-Latif.
"I'm quite thrilled that we now are heard by audiences around the world in a Marvel production. It is an important stepping stone any artist should be proud of," said Gawy's co-founder and songwriter Ahmed El-Gamal.
Formed in September 2015, Gawy has been an active participant in the Egyptian artistic scene, giving at least 30 performances so far.
Since it had first been formed back in September, Gawy has been performing an alternative form of art, a unique artistic state that blends the power of words with distinctive tunes, putting them into a unique, contemporary musical form.
The name "Gawy" is derived from incense that releases a remarkably attractive scent, vividly describing the distinguished mix of poetry and songs, recited and sung in colloquial Egyptian Arabic.

Gawy is considered an artistic project rather than just a band. Most recently, it released a poetry collection entitled 'Gawy' throughout the recent Cairo International Book Fair that had won the Abdul-Rahman El-Abnoudy Prize for Colloquial Poetry and Critical Studies for 2021.
The book, written by El-Gamal, consists of the poems recited during the band's previous performances as well as new ones to be recited during future gigs.
Naturally, this unexpected journey to Black Widow energized the band. Not only does Gawy aim to capitalize on the amplified attention they have received but they also finally have means to continue working on their upcoming songs. As the band members explain, the new songs will be presented in the format of music videos, released consecutively, with the first one planned to see the light this month. With El-Gamal providing the poetry, the current band members include Tifa (vocals), Fakhrany (drums), Bebawy Rafaat (bass guitar), Shodz (keyboard) and Fady Wissa (guitar and keyboard).
"We have been working on music for more than four years and we are extremely excited that it will finally be released. The songs will form one thematic body, with the poetry and music set in a visual framework," Tifa explains. This is where Ahmed El-Gamal steps in. As he reveals, over past years, he was offered work with other musicians yet it is in Gawy that he finds himself.
"Curiously, Tifa and I were not close friends; we just decided to try something out together. It clicked and here we are," El-Gamal comments. He adds that he started writing long before AtshanYaZeina. "At that time a lot had been happening in the country, then the revolution came... followed by years of change," El-Gamal refers to the fertile ground providing him with ideas for his writings. "I write about people, from social issues to the smallest details."
Tifa adds, "Ahmed tells stories through his poetry. His writings are very real and resonate with many people. Ahmed's language is strongly influenced by the language of Egypt's south." That is partly why he explains, Marvel asked for two translations: a literal one, and one that conveys meaning and style.
Excited though they are, the two friends remain humble: "We would never have thought that our song would draw the attention of international listeners, let alone land on Marvel's desk."
Media Contact:

Name: Mohammed Abd Ellatif
Email: gawy.band@gmail.com
Phone: +201068424752
Location: Cairo, Egypt