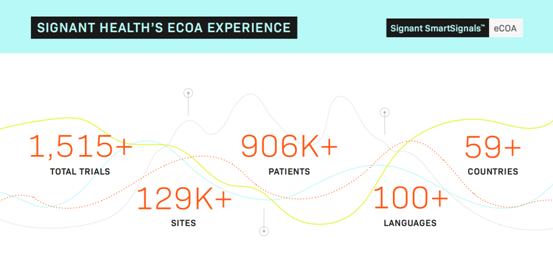 EClinCloud Announces Partnership with Signant Health to Provide Electronic Clinical Outcomes Assessments Solutions
EClinCloud Announces Partnership with Signant Health to Provide Electronic Clinical Outcomes Assessments Solutions
To serve the global growth and expansion of Chinese pharmaceutical companies and support the move toward digitally-enabled clinical trials, EClinCloud (Shenzhen) Technology Co., Ltd. and Signant Health, the world's leading evidence generation company, have established an exclusive strategic partnership to co-market and sell Signant's SmartSignals eCOA software and services in Greater China. EClinCloud will serve as the face of Signant's business operations in Greater China, bringing renowned clinical development services to sponsors and CROs that are looking for technology to improve data collection and quality.
Headquartered in the United States, Signant Health has more than 1,700 employees on three continents. It specializes in the complex fields of neurology and oncology, leveraging a suite of clinical trial technology solutions, scientific services, and collaborations and affiliations with scientific organizations around the world to facilitate clinical development in these and many other therapeutic areas.
"EClinCloud has a comprehensive, independently developed clinical research platform that includes a clinical trial project management system (CTMS), electronic data collection (EDC), and an electronic trial master file management (eTMF) platform, among other solutions," said Dr. Long Qin, CEO of EClinCloud.
"The clinical business and service team of EClinCloud has a global point of view and the ability to execute in compliance with international standards. With this partnership, EClinCloud can also conduct scale management, training, and clinical endpoint outcome evaluation while enhancing the patient experience. By combining products independently developed by EClinCloud with Signant's scientific and clinical operations expertise, we will help domestic or foreign pharmaceutical companies and research institutions improve patient outcomes and increase data quality while delivering life-changing treatments to the international community."
About EClinCloud
With the mission of "Using technological innovation to bring effective treatment to patients," EClinCloud is a life sciences technology company based in China dedicated to serving the international community. Through EClinCloud's seamlessly integrated platform (including scale management, language verification, research design, EDC, CTMS, eTMF,) and varied therapeutic fields expertise (oncology, neurology, cardiology, respirology, dermatology, etc.), EClinCloud is building the world's leading "patient-centered" SaaS cloud platform. Its aim is to partner with pharmaceutical companies and research institutions to improve research and development efficiency for new drugs and medical devices in order to deliver therapies to patients faster. For more information, please visit: www.eclincloud.com
Media Contact:
Contact Person: Betty Bao
Email: betty.bao@eclincloud.com
Telephone: +86 180 4805 6956
Company: EClinCloud (Shenzhen) Technology Co., Ltd.
Website: https://www.eclincloud.com/
Location: Shenzhen, China