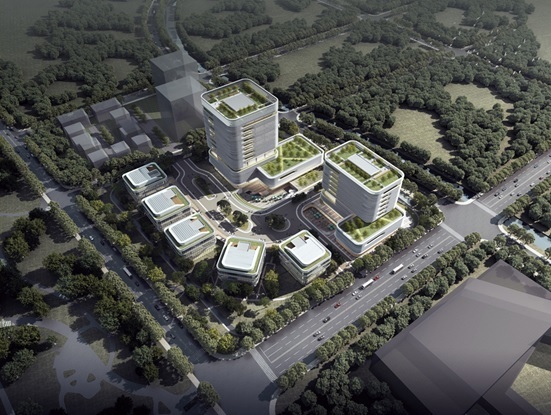 Construction of 10 Major Projects Commenced Intensively in Jianye, Hexi
10 major projects are being intensively developed in Jianye.
On the 26th of February, 2021, the major project commencement ceremony of Jianye, Hexi was grandly held in Singapore-Nanjing ECO High-Tech Island.
10 major projects were started collectively this time, with a total investment of 8.769 billion yuan and an annual intended investment of 1.377 billion yuan, covering industries at the middle and high-end of the value chain such as finance, digital economy, artificial intelligence, ecological and environmental protection, and humanities education.
Low-Carbon Ecological Industrial Park Project in Jianye
The 10 major projects newly started this time are as follows: the Construction project of Jianye Low-Carbon Ecological Industrial Park, Jianye Science and Technology Financial Center, BenQ Health Industrial Park, AMC Museum Group, Guoheng Safety, Occupational Health, and Environmental R&D Center, Jianye District Jiangxinzhou Community Service Center, Hong Kong Yingda Global Digital Transportation Science and Education R&D Center, Jiangsu Food Safety Testing Center and Food and Drug Safety Monitoring Center. Inspection Capability Test of Jiangsu Medical Device Inspection Institute and River Water Environment Governance are also included. Among them, the Jianye Low-Carbon Ecological Industrial Park project covers about 47.52 acres of land, and the planned construction area is 86,500 square meters. In 2021, the intended investment reaches 200 million yuan. The project will focus on the energy-saving and environmental protection industrial chain and create a characteristic industrial park where zero-carbon technology research is conducted, and environmental protection companies gather. The Jianye Science and Technology Financial Center project covers an area of 77.37 acres, and the planned construction area is 415,500 square meters. The project will become the carrier support for the construction of an "important financial center in the east" in Jianye, Nanjing, building a technology and financial headquarters base and gathering big data, cloud computing, artificial intelligence, and blockchain fintech companies.
The Construction Project of Jianye Technology Finance Center
In 2021, Jianye District will fully implement Nanjing's "Industrial Quality and Efficiency Improvement Year" deployment to further promote the development of industrial clusters and build a new highland for economic development. 11 new major projects will be carried out in the second and third quarters, a total investment of which will achieve 25.62 billion yuan and 3.81 billion yuan will be invested in these projects annually. All through the year, there were 9 new municipal-level projects with an annual planned investment of 5.7 billion.
Company: Global Times
Person: Lucy
Email: lucyglobaltimes@163.com
Country and city: China, Nanjing
Web: http://www.njjy.gov.cn/
There is no offer to sell, no solicitation of an offer to buy, and no recommendation of any security or any other product or service in this article. Moreover, nothing contained in this PR should be construed as a recommendation to buy, sell, or hold any investment or security, or to engage in any investment strategy or transaction. It is your responsibility to determine whether any investment, investment strategy, security, or related transaction is appropriate for you based on your investment objectives, financial circumstances, and risk tolerance. Consult your business advisor, attorney, or tax advisor regarding your specific business, legal, or tax situation.